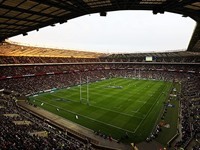 All the Rugby lovers
Twickenham Stadium provides vibrant location for various events, exhibitions and rugby matches. To find out more about whats happening at Twickenham stadium visit the link.
Shepiston Lodge is an ideal location, minutes away from this famous Rugby stadium where all the rugby lovers can relax before and after the game. Skylark is highly recommended by its customers on TripAdvisor and all other social media portals for its personalized service, quality and affordability. Also we offer free parking during the entire stay so no need to worry about parking charges.